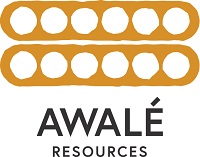 Awalé Resources Ltd.
Company Data | Introduction | Projects in Hand | Management
News Update | Chinese
| | |
| --- | --- |
| Traded Market: | TSX-V |
| Traded Symbol: | ARIC |
| Outstanding Shares: | 124.07 million |
| Public Float: | 2 million |
| 52 Week High: | $ 0.235 |
| 52 Week Low: | $ 0.035 |
| Present Price: | Click Here |
Awalé Resources is a gold exploration company focussed on the discovery of large high-grade deposits in the underexplored jurisdiction of Cote d'Ivoire. West Africa is now accepted as one of the world's great gold provinces, and is the largest Paleoproterozoic gold producing region, with a near 10,000 tonne gold endowment. Cote d'Ivoire contains 33% of the prospective Birimian greenstone belts in West Africa, but less than 10% of total gold resources, making it an ideal location for new gold discoveries.
(1) Odienné Project
The Odienné project lies in the northwest of Côte d'Ivoire within the Denguelé Region, close to the borders of Mali and Guinea.
Empire High Grade Gold Discovery
High Grade mineralisation with visible gold – robust mineralisation and continuity over central drill zone
Open in all directions
Empire is a 'classic' orogenic shear zone hosted gold target, which has potential to build to +1m Oz rapidly
Hosted in within a brittle/ductile deformation zone of a diorite body with high grade quartz extension veins that has intruded a pre-existing WNW trending mylonite bearing structure.
On October 7, 2020, Awalé has released results from the first two holes of its phase 2 program at the Empire gold discovery. Five holes have now been completed at Empire Main with the sixth hole under way for total of approximately 800 metres drilled to date. Up to 1,500 drill metres have been planned for Empire Main and a further 4,500 metres for strike extension targets from the Empire Main discovery.
Highlights from these first two holes are as follows:
OEDD-16: 17 metres at 3.5 grams per tonne gold from 86 metres downhole, including one metre at 11.9 grams per tonne and one metre at 11.7 grams per tonne from 87 metres and 90 metres, respectively;
OEDD-17: eight metres at 1.6 grams per tonne gold from 65 metres, including three metres at 3.4 grams per tonne gold from 66 metres and six metres at 1.2 grams per tonne from 82 metres.
Current & Planned Work
Odienné – Empire Gold discovery (Currently drilling)
Discovery Main Zone – Extension drilling and plunge testing
Along strike from the Main zone – 3 new high order Auger geochemical targets of equal size to the main zone which are drill ready along the 3km anomalous trend
(2) Bondoukou Project – On going Drill Target Generation
The Bondoukou Project is located in the northeast of Cote d'Ivoire and is accessed via sealed roads from Abidjan to the city of Bondoukou.
Regional Scale Interpretation from Geophysics and surface mapping and sampling on the Bondoukou Permits has identified four (4) fertile fluid pathways, generating a pipeline of potential sites for gold mineralization.
Current & Planned Work
Bondoukou – Multiple high order Gold anomalies for drill testing late Q4
Fako target – Awari Shear
Samanda Prospect

two 3km long gold in soil targets
Greater than 10ppb gold ("Au") soil anomalies with >40ppb Au cores and a peak value of 4,297ppb Au.

Kodio Trend – 17.5km long gold in soil anomaly with multiple high order anomalies
(3) Abengourou Project
The Abengourou project is located in the Comoe region, close to the regions capital Abengourou.
Results and Planned work
Results from exploration:
Confirmation by Awalé of large soil anomalies
Planned / Current Works

Ongoing geological mapping, pitting and trenching.
Following successful geo-chemical results – possible scout drilling of high priority drill targets.

Nianda Permit untested along same geology and structures as Amélékia

Stream (Silt) sampling at Nianda.
Forms part of Awalé's prioritisation pipeline
Investment Summary
Under explored Jurisdiction – 33% of West Africa's Birimian Geology with less than 10 percent of resources
Large strategic gold anomalous land package with district scale over 3 project areas covering 2,307 km2 :

Bondoukou Project, 100% (1,192 km2)
Abengourou Project, 100% (718 km2)
Odienné Project, 90% (397 km2)

Maiden Drill program delivers first gold discovery at the Empire Prospect – Odienné project
Rapid advancement of defined drill targets at Bondoukou with material advancement in geological and mineralisation understanding
Successful Board and Management Team, with proven record of value delivery for shareholders.
Management and Directors
Glen Parsons, CA, BComm (Econ), Chief Executive Officer and Director
Mr. Parsons has over 20 years international experience in company building, corporate finance, treasury, operational and general management. He was chief executive officer of Mariana Resources. He is also non-executive chairman of AfriTin Mining Ltd.
Andrew Chubb, Chief Operating Officer
Mr. Chubb is an economic geologist with 17 years of international experience in precious and base metal exploration with a particular focus and experience on the greenstone belts of West Africa.
Sharon Cooper, CA, BA, Chief Financial Officer
Ms. Cooper has over 10 years of experience in accounting and auditing roles for mining and mining-related companies. She was CFO of Mariana Resources Ltd.
Karen Davies, Head of Investor Relations
Ms. Davies has been involved in the mining industry since 2002 with a focus on Senior Investor Relations and Corporate Communications roles.
Karl Akueson, Country Manager Cote d'Ivoire
Koffi Gbamele, Operations Manager Cote d'Ivoire
Andrew Smith, Exploration Manager Cote d'Ivoire
Eric Roth, Director
Mr. Roth is former chief operating officer of Mariana Resources Limited
Ron Ho, Sandstorm Gold Limited, Director
Mr. Ho has been with Sandstorm Gold for the past nine years
Derk Hartman, Director
Mr. Hartman is former chief financial officer of Silver Bear Resources
On October 28 2020, Awalé Resources Limited reported exceptional gold results from the phase 2 drill program at the Empire gold discovery.
Highlights:
OEDD-24 : 15 meters (m) at 13.1 grams per tonne gold (g/t Au), including 2m at 20 g/t Au, 7.6m at 20.1 g/t Au, and 1m at 129.8 g/t Au.
OEDD-18 : 11m at 4.9 g/t Au, including 1m at 4.8 g/t Au and 1m at 40.2 g/t Au
OEDD-19 : 2m at 3.2 g/t Au, and 6m at 1.7 g/t Au.