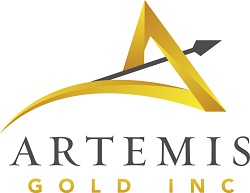 Artemis Gold Inc.
Company Data | Introduction | Projects in Hand | Management
News Update | Chinese
Address : 
Suite 3083 – 595 Burrard Street
Vancouver, BC
Canada V7X 1L3
Tel No.:
+1 (604) 558-1107
Fax No.:
+1 (604) 566-9050
Web Site:
www.artemisgoldinc.com
E-mail:
info@artemisgoldinc.com
Contact Person:
Chris Batalha
Position:
CFO & Corporate Secretary
| | |
| --- | --- |
| Traded Market: | TSX-V |
| Traded Symbol: | ARTG |
| Outstanding Shares: | 48,207,882 |
| Public Float: | 21,550,394 |
| 52 Week High: | C$ 2.00 |
| 52 Week Low: | C$ 0.95 |
| Present Price: | Click Here |
Artemis Gold Inc. is a gold development company, spun out of Atlantic Gold Corporation prior to it being acquired by St. Barbara Limited
Artemis is well financed, growth-oriented and aimed at creating shareholder value through the identification, acquisition and development of gold properties in mining friendly jurisdictions
Board and management comprise the team that built Atlantic achieving a +1,129% return on investment over the 4.5 yr period from its inception until it was acquired for $802m, against an industry index performance over the same period of -29%
Strong balance sheet with approximately $30 Million in cash and no debt
Current asset portfolio includes an approximately 39% strategic stake in Velocity Minerals Ltd. (TSX-V: VLC), as well as the right to earn 100% of the GK Property, a copper-gold porphyry and epithermal target located within northern British Columbia's Golden Triangle
Supportive shareholder base with capacity to support future longer-term capital requirements without reliance on capital markets
Strategic Investment in Velocity Minerals (TSX-V: VLC)
In March 2019, Artemis made a strategic investment into Velocity Minerals, a gold exploration and development company focused on eastern Europe. Proceeds from the VLC Investment are being used to fund the advancement of Velocity's flagship deposit, the Rozino gold project located in southeast Bulgaria ("Rozino") towards feasibility and permitting, including resource expansion and definition drilling, engineering studies, environmental monitoring and assessment and for general working capital purposes. The Artemis team sees many opportunistic characteristics in the Rozino project that are similar to Atlantic Gold's producing Moose River Consolidated Mine ("MRC").
22% ownership of VLC issued & outstanding shares
39% ownership on a partially diluted basis with conversion of warrants and convertible debenture
70% interest in multiple deposits in Bulgaria, a mining-friendly jurisdiction with low mining royalties and a corporate tax rate of 10%
Partnered with an established private Bulgarian miner (Gorubso)
Access to an existing permitted carbon-in-leach (CIL) processing plant
Goal to build a production profile of >100,000 ounces per year, sustainable over 10 years
Most advanced deposit, Rozino, exhibits many of the key characteristics of Atlantic's MRC Mine, namely:

All In Sustaining Cost (AISC) of ~US$550-650/oz, Rozino Preliminary Economic Assessment (PEA) After Tax NPV5 of C$129m, 33% IRR (at US$1,500/oz, after tax NPV5 of C$207m, 46% IRR)
Low initial capex
Low strip ratio deposit with a 1.51 g/t Au LoM gold grade
Resource expansion potential at existing deposits
Simple metallurgy and conventional processing methods
Potential for multiple open pits which could be treated through a central milling facility
An under-explored gold belt, with little if any modern gold exploration
Advancing to Pre-feasibility Study H2 2020
GK Project, British Columbia
Early-stage exploration property, located approximately 17 km west of the community of Telegraph Creek, NW British Columbia, near infrastructure in a belt of major copper-gold porphyry and gold-rich vein deposits
Located in BC's prolific Golden Triangle area; in close proximity to Red Chris Mine, Golden Bear, and Brucejack Mines
Multiple very strong gold-copper geochemical anomalies
Rock sampling has returned peak values of 47.5 g/t gold, 15.9% copper, 120 g/t silver and 0.21% cobalt
Initial program of $400,000 covering magnetic/VTEM surveys, 1,000 samples as well as trenching
Phase 2 program may then be initiated based on the initial program which would include diamond drilling
Right to acquire a 100% interest in the project
The Artemis Strategy and Differentiators
Proven Team that Built Atlantic Gold Achieving a +1,129% Return over 4.5 years
Focus on Shareholder Value Creation
Focus on Low Initial Capex Intensity Assets
Technically Driven Approach with Focus on Risk Management
Board and Management 45% Ownership
Minimize Shareholder Dilution
Management and Directors
Steven Dean, Chairman, Chief Executive Officer & Director
Mr. Dean has extensive experience internationally in mining, including as President of Teck Cominco Limited (now Teck Resources Ltd.). Mr. Dean was Chairman and CEO and founder of Atlantic Gold Corporation, which was sold to St. Barbara Limited in 2019 for $802 million. Mr. Dean is a recipient of the 2020 Viola R. MacMillan Award from the Prospectors and Developers Association of Canada (PDAC) for individuals demonstrating leadership in management and financing for the exploration and development of mineral resources.
Chris Batalha, CPA, CA, Chief Financial Officer & Corporate Secretary
Mr. Batalha has over seven years' experience in accounting, finance, corporate governance and M&A with a number of mining exploration and development companies in the gold and iron ore space. Over the past several years, Mr. Batalha has been the CFO of Atlantic Gold Corporation until its sale to St. Barbara Limited in 2019.
Alastair Tiver, P.Eng., Vice President Projects
Mr. Tiver has more than 30 years of international mining experience in project evaluations, reserve estimation and mine development in base and precious metals. For the past 14 years he has been involved in project development within Canada. He has held senior management roles in several companies including, BC Metals Corporation, Copper Mountain Mining Corporation, Yellowhead Mining Inc. and Atlantic Gold Corporation.
Neil Schofield, B.Sc. (Geology), M.Sc., Resource Geologist Consultant
Mr. Schofield has over 30 years experience in the mining industry, having worked as a mineral exploration geologist since 1972 and as a geostatistician in mineral resource assessment since 1989.
Marc Schulte, Mining Engineer Consultant
Mr. Schulte is a licensed professional mining engineer with over 18 years of combined experience in operations and consulting. He has been involved with operations in Western Canada, and internationally as a consultant on various engineering.
Tracey Meintjes, Technical Advisor
Mr. Meintjes has over 25 years of international experience in metallurgy, minerals processing, and mine planning. Mr. Meintjes' most recent project success includes the Moose River Consolidated Mine gold project.
Robert G. Atkinson, Director
Ryan Beedie, Director
David Black, Director
William Armstrong, P.Eng., Director
On February 09, 2021, Artemis Gold Inc. announced that it has submitted applications to the B.C. Government to undertake an early works construction program in respect of its Blackwater Gold Project in Central British Columbia.
On February 08, 2021, Artemis Gold Inc. has appointed Candice Alderson as senior vice-president of corporate affairs for the company. Ms. Alderson will be responsible for executing the company's strategy, alongside senior management, in respect of stakeholder and government affairs, and key relationship and contract management for the company, in respect of its Blackwater gold project. Ms. Alderson will join the company in her new role, based out of the company's Vancouver office, effective Feb. 15, 2021.
On January 27, 2021, Artemis Gold Inc. has appointed Gerrie van der Westhuizen as vice-president of finance for the company, effective Jan. 27, 2021. Based out of the Company's Vancouver office, Mr. Van der Westhuizen will be responsible for managing the finance function for the Company in respect of strategic financial analysis and planning, treasury & debt management, budgeting, financial reporting, business processes & related controls as well as building the finance team both at the Company's head office and at the Company's wholly owned Blackwater Gold Project ("Blackwater"), as the company progresses to the construction and operations phases at Blackwater.
On January 06, 2020, Artemis Gold Inc. has appointed Jeremy Langford as chief operating officer of the company, effective Jan. 6, 2021. Based out of the company's Vancouver office, Mr. Langford will be responsible for the overall operational and technical management of the company's assets, as well as take a lead role alongside the chairman and chief executive officer of the company in executing the company's business plan and strategy.
On November 11, 2020 Artemis Gold Inc. provided key data on the near-surface high-grade starter pit mineralization and the commencement of its grade control drilling program at the company's Blackwater gold project in central British Columbia, Canada.
The company has budgeted for a 35,000-metre reverse circulation drill program targeting mineralization planned to be mined during the first year of production within phase 1 of the Blackwater development plan as set out in the company's 2020 prefeasibility study on the project. The primary objectives of the program are to:
Optimize grade selectivity and mine schedule for managing the tonnes and grade of mineralized material to be processed in the first year of operations;
Increase data density by up to 16 times over current diamond drilling data;
More accurately delineate ore and waste boundaries to mitigate ore dilution;
Improve drill and blast designs;
Derisk uncertainty regarding ore mined and milled during ramp-up from a project financing perspective;
Provide a larger sample size to reduce the grade variability of mineralization.
On November 05, 2020, Artemis Gold Inc. announced the results of an Economic Impact Study conducted on the company's Blackwater Gold project in Central British Columbia, Canada. The Company engaged KPMG to produce the Study to be used to measure the updated economic benefits of the staged approach to the development of the Project. The Study focuses on job creation, fiscal revenues, and overall economic wealth creation for the regions within and surrounding the Project, the Province and for Canada. The summary include:
457 direct jobs created - Life of mine operations
825 direct jobs created during construction/expansion phases
$13.2 billion in value added in B.C. – Life of mine
$2.3 billion in Provincial Government Revenues – life of mine
On November 02, 2020, In accordance with Policy 2.5, Artemis Gold Inc. has met the requirements for a Tier 1 company. Therefore, effective at market open, Wednesday, Nov. 4, 2020, the company's tier classification will change from Tier 2 to Tier 1, mining issuer.
On October 30, 2020, Artemis Gold Inc. announced that the company has been approved for graduation from Tier 2 to Tier 1 issuer status on the TSX Venture Exchange, effective Nov. 4, 2020.
On September 18, 2020, Artemis Gold Inc. has filed a National Instrument 43-101 technical report, entitled "Blackwater Gold Project British Columbia -- NI 43-101 Technical Report on Pre-Feasibility Study," with an effective date of Aug. 26, 2020. The technical report is available for review on SEDAR and on the company's website.
On September 02, 2020, Artemis Gold Inc. has closed its previously announced non-brokered private placement to Nick Campbell for gross proceeds of $1,362,500 through the issuance of 250,000 common shares of the company at a price of $5.45 per share. The company expects to use the net proceeds from the private placement toward advancing its recently acquired Blackwater gold project in central British Columbia as well as for general working capital.
On August 27, 2020, Pursuant to the terms of an employment agreement between Nick Campbell and Artemis Gold Inc. (as previously announced on Aug. 24, 2020), Artemis intends to complete a non-brokered private placement to Mr. Campbell for gross proceeds of $1,362,500.
On August 26, 2020, Artemis Gold Inc. has provided the results of a prefeasibility study (PFS) based on a revised development approach to the recently acquired, and 100-per-cent-owned Blackwater gold project in central British Columbia.
Unlevered after-tax NPV5 (net present value 5 per cent) of $2.2-billion;
After-tax IRR (internal rate of return) of 35 per cent;
Payback on initial capital costs of two years.
On August 24, 2020, Artemis Gold Inc. announced that after the successful completion of the acquisition of the Blackwater gold project on Aug. 21, 2020, the company has appointed key staff members as the company looks to execute on its primary objective of advancing the project toward permitting and construction. The people include Nick Campbell - VP Capital Markets, Klaus Popelka - Manager Resource Geology and Ryan Todd - VP Environment & Social Responsibility.
On August 24, 2020, Artemis Gold Inc. announced that it has completed the acquisition of the Blackwater gold project in central British Columbia from New Gold Inc. pursuant to the terms of an asset purchase agreement dated June 9, 2020, with New Gold and BW Gold Ltd., a wholly owned subsidiary of Artemis. Artemis has acquired all of New Gold's property, assets and rights related to the project and now holds a 100-per-cent interest in the project.
On August 24, 2020, Artemis Gold Inc. announced that the TSX Venture Exchange has accepted for filing documentation with respect to a brokered and non-brokered private placement announced June 12, 2020. Number of shares: 64,825,925 shares, Purchase price: $2.70 per share, Number of placees: 99 placees
On August 11, 2020, Artemis Gold Inc. announced that the disinterested shareholders have approved the non-brokered private placement of 23,095,600 subscription receipts of the company to certain insiders of the company and their joint actors at the company's special meeting of shareholders held earlier today.
On June 12, 2020, Artemis Gold Inc. has entered into an agreement with a syndicate of underwriters co-led by Canaccord Genuity Corp. and BMO Capital Markets in connection with a bought deal private placement financing of an aggregate of 38.9 million subscription receipts of the company. The Company is also undertaking a non-brokered private placement of subscription receipts to insiders of the Company and to a president's list on the same terms as the Bought Deal Offering.
The proceeds from the issue and sale of approximately C$175 million of Subscription Receipts will be used by the Company to fund its acquisition of the Blackwater Gold Project in British Columbia (the "Project") from New Gold Inc. with an initial payment ("Initial Payment") of C$140 million (the "Transaction") and for general corporate purposes.