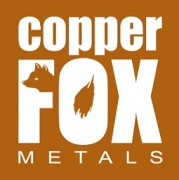 Copper Fox Metals Inc.
Company Data | Introduction | Projects in Hand | Management
News Update | Chinese
Address : 
Suite 650, 340 – 12th Avenue SW
Calgary, Alberta
Canada T2R 1L5
Tel No.:
(403) 264-2820
Fax No.:
(403) 264-2920
Web Site:
www.copperfoxmetals.com
E-mail:
info@copperfoxmetals.com
Contact Person:
Lynn Ball
Position:
Corporate Developments
| | |
| --- | --- |
| Traded Market: | TSX-V | OTC |
| Traded Symbol: | CUU | CPFXF |
| Outstanding Shares: | approx. 490 million (Insider ownership: 58.1%) |
| 52 Week High: | $ 0.20 |
| 52 Week Low: | $ 0.005 |
| Present Price: | Click Here |
Copper Fox is a Canadian mineral resource company with a pipeline of high quality operated and non-operated porphyry and in-situ copper recovery projects in both the exploration and advanced stages in Canada and the United States.
The Company's advanced stage development projects are:

Schaft Creek, a 25% joint venture interest with Teck Resources Limited (75%), in the Golden Triangle in northwestern British Columbia, and
Van Dyke, a 100% interest in an In-Situ Copper Recovery (ISCR) project in the Laramide Copper Province in Arizona.

The Company also has two 100% owned exploration stage projects in Arizona, Sombrero Butte and Mineral Mountain and is in the process of completing the purchase of the Eaglehead project located in northwestern British Columbia.
Expected increased copper demand through anticipated infrastructure programs on a global basis, EV's, alternative energy/power strategies, and antimicrobial applications.
(1) Schaft Creek Copper-Gold-Molybdenum-Silver Project, Northwestern British Columbia, Canada
Project Highlights:
Teck Resources Limited (75% ownership and Operator), Copper Fox (25% ownership), Schaft Creek Joint Venture (SCJV) formed upon completion of the 2013 Feasibility Study.
One of the largest undeveloped copper-gold-molybdenum-silver porphyry deposits in North America, located in the northwestern, BC.
56,180 ha of Mineral Licenses
108,459 metres of diamond drilling
Exploration potential, the deposit is open to expansion, with other exploration targets identified.
Geopolitically stable jurisdiction, Copper Fox and Teck have built a strong relationship with the Tahltan Nation.
Port facilities and power infrastructure nearby
In 2018, Teck published an Updated Resource Estimate and completed a Sizing and Infrastructure Study reviewing four scenarios
Measured & Indicated Mineral Resources of 1,293.2 Mt @ 0.26% Cu, 0.16 g/t Au, 0.017% Mo, 1.2 g/t Ag
Contained Metal 7.3 Blb Cu, 6.5 Moz Au, 471 Mlb Mo, 51.5 Moz Ag
11.9 Blb CuEq using metal prices of US$3.00/lb Cu, US$1,200/oz Au, US$10.00/lb Mo, US$20/oz Ag and metallurgical recoveries averaging 86.6% Cu, 73.0% for Au and 48.3% Ag
A report with the results of the 2019 in-depth study on the 2018 Sizing and Infrastructure Study's recommended133ktpd scenario, is in progress.
(2) Van Dyke ISCR Project, Arizona
Project Highlights:
100% ownership located 90 miles east of Phoenix in the Globe-Miami Mining District in Arizona, Arizona is home to some of the largest copper mines/deposits in the world.
40,357 metres of diamond drilling
Deposit open to expansion
Geopolitically friendly mining jurisdiction
Existing infrastructure
In 2015, Positive Preliminary Economic Assessment completed:

Pre-tax NPV C$297 million at 8% discount rate, IRR 35.5%
Post-tax NPV C$209 million at 8% discount rate, IRR 27.9%
Direct cash cost of US$0.60/lb
Based on an Inferred resource of 183 million tonnes, grading 0.33% total copper, containing 1.3 Blb Cu

In 2020, Resource Estimate completed:

Indicated resource of 97.6 million tonnes, grading 0.33% total copper, containing 517 Mlb of soluble copper
Inferred resource of 168.0 million tonnes, grading 0.27% total copper, containing 699 Mlb of soluble copper

Updated Preliminary Economic Assessment is underway to quantify the 50% increase in soluble copper content and estimated copper recoveries outlined in the 2020 Resource Estimate.
(3) Sombrero Butte Copper Project, Arizona
Project Highlights:
100% owned by Copper Fox
Located 2 miles south of Copper Creek Cu-Mo deposit
Multiple mineralized breccia pipes; with Cu-Mo-Au-Ag (same as Copper Creek)
2019 mapping and sampling program support the presence of buried porphyry copper system
Two large exploration targets identified, (chargeability anomalies/surface copper-molybdenum mineralization)
Airborne Geophysics re-scheduled for 2021
(4) Mineral Mountain Copper Project, Arizona
Project Highlights:
100% owned by Copper Fox
Located on major porphyry copper trend in Arizona, approximately 15 miles east of Florence
Two large targets identified with porphyry style copper mineralization over 4,500m by 2,000m in Target No. 1 and 2,800m by 400m in Target No. 2.
A geochemical factor study has identified a clearly defined copper-molybdenum-gold-silver-tellurium target measuring about 2,000m north-south by 500m east-west in Target No. 1.
The study recommended a 1,500 m long diamond drill hole to determine if the source of the surface Cu-Mo-Au-Ag-Te target is within economically minable depths and contains potentially economic grades.
The Company intends to complete an environmental assessment, prior to commencing the proposed geophysical survey.
(5) Eaglehead Copper-Molybdenum-Gold Project, Northwestern British Columbia
Project Highlights:
Copper Fox is currently acquiring 100% interest in this exploration stage project
15,956 ha of Mineral Licenses
8 km long porphyry copper-gold-molybdenum-silver system with five large zones of porphyry style mineralization identified
Metallurgical test work indicated 89% Cu, 78% Au, 78% Ag and 72% Mo recovery
NI 43-101 Technical Reports published in 2017 and 2019
Copper Fox's Investment Advantage
High quality portfolio of porphyry and ISCR copper assets
Large Cu, Au, Mo, Ag mineral resources (NI 43-101 reported)
Robust exploration and development project pipeline
Creating value through leveraging dollars invested into significant increases in Net Asset Value (NAV)
Hands-on experienced management
Management and Directors
Elmer B. Stewart, P.Geol., M.Sc., Chairman, President and Chief Executive Officer
Mr. Stewart has over 42 years of domestic and international experience in mining and mineral exploration. Mr. Stewart has been involved in putting five gold mines into production. Mr. Stewart has approximately 30 years of experience at the senior management level for various companies listed on the Toronto and Toronto Venture Exchange.
Braden Jensen, CA, B.Comm., Chief Financial Officer
Mr. Jensen began his career and training with KPMG LLP. He was in the public practice sector for six years, concentrating in commodities-based accounting and tax prior to entering the resource sector where he has been responsible for reporting on exploration and operations.
R. Hector MacKay-Dunn, QC, Director
J. Michael Smith, Director
Ernesto Echavarria, CPA, Director
Erik Koudstaal, CA, Director
On November 3, 2020, Copper Fox Metals Inc. announced that the metallurgical and process portion of the preliminary economic assessment (PEA) along with copper production schedules on the Company's 100-per-cent-owned Van Dyke ISCR project have been completed. Moose Mountain Technical Services (MMTS) is managing preparation of the PEA. Highlights are:
The base case annual production has been set at 85 million pounds per year compared with 60 million lb/year in 2015.
The base case production scenario yields an 18-year life of mine (LOM) compared with an 11-year LOM in 2015.
There is an overall reduction in average well length and metres drilled LOM.
An overall sweep efficiency of 89 per cent has been used with preconditioning of the rock accounted for to ensure connectivity of fracturing for copper recovery.
Metallurgical recovery at 90 per cent, unchanged from the May 4, 2020, resource estimate.
Preparation of pre-tax and post tax cash flow models in progress.
With completion of these portions of the PEA, MMTS can complete the capital, operating and sustaining costs estimates and cash flow models.