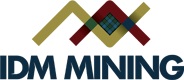 IDM Mining Ltd.
Company Data | Introduction | Projects in Hand | Management
News Update | Chinese
Address : 
Suite 1800, 555 Burrard Street
Vancouver, BC
Canada V7X 1M9
Tel No.:
604-681-5672
Web Site:
www.idmmining.com
E-mail:
st@idmmining.com
Contact Person:
Shobana Thaya
Position:
Investor Relations / Corporate Communication
| | |
| --- | --- |
| Traded Market: | TSX-V; OTCQB |
| Traded Symbol: | IDM; IDMMF |
| Outstanding Shares: | 358,823,843 |
| 52 Week High: | $ 0.26 |
| 52 Week Low: | $ 0.12 |
| Present Price: | Click Here |
IDM Mining Ltd. is a mineral exploration and development company based in Vancouver, BC, Canada. The Company's current exploration and development activities are focused on precious metals in British Columbia, with a primary focus on the high-grade, underground Red Mountain Gold Project, location in the famous Golden Triangle of Northwestern B.C., which is advancing through the B.C. Provincial and Federal Environmental Assessment Processes.
IDM is led by a management team with deep roots in Northwestern British Columbia, with talented professionals having significant exploration, engineering, project finance and permitting experience.
Red Mountain Gold Project, British Columbia
The 17,125-hectare Red Mountain gold project is located in northwestern British Columbia, 15 kilometres northeast of the town of Stewart. IDM is advancing a feasibility study for a high-grade, underground gold mine, which envisions primarily bulk underground mining methods and the production of gold dore on site. The project is advancing through the provincial and federal environmental assessment processes, with comprehensive, thorough and continuing consultation with Nisga'a Nation.
Near-term High Grade Producer
High grade underground gold-silver development project
Low cost bulk mining ($440 US/oz)
$45 million invested with 2,000 meters of UG development in place
Near term (target 2019) production
Low capex
Resource expansion potential
Permitting well advanced
Supportive First Nations and community
Significant Exploration Potential
Same belt of rocks as Seabridge and Pretium
Located in prolific BC Golden Triangle
17,125 ha property with numerous showings and potential
Ice retreat has exposed many new areas
Mineralized horizon extends >800m north of current resource
New significant discovery at Lost Valley
Near surface resource and expansion potential at 141 zone and Rio Blanco
A NI 43-101 compliant resource of 2,074,700 tonnes in the Measured and Indicated Category averaging 8.75 g/t Au and 24.82 g/t Ag, for 583,700 oz. Au and 1,655,700 oz. Ag, with an additional 324,700 tonnes in the Inferred Category, averaging 6.21 g/t Au and 10.11 g/t Ag, for 64,800 oz. Au and 105,500 oz. Ag.
2016 NI 43-101 Resource Estimate

Class

Tonnage

Au

(g/t)

Ag

(g/t)

Au

(oz)

Ag

(oz)

Measured

1,246,000

9.40

30.00

376,400

1,194,000

Indicated

828,700

7.78

17.00

207,300

461,700

M & I Total

2,074,700

8.75

25.00

583,700

1,655,700

Inferred Total

324,700

6.21

10.00

64,800

105,500
Recent Milestones
Project Economics: Strong economics with IRR of 42.4%*
Payback period 1.9 years*
Updated resource with 32% increase in contained Measured and Indicated ounces; grade increased to 8.75 g/t Au
2016 drilling expanded resources to north, south and downdip; Au/Ag discovery at Lost Valley
2017 Project Advancement
Resource expansion and exploration drilling underground is underway and surface is planned
Feasibility Study underway including engineering studies, tailings and water management design
Complete studies/engineering and file Project Application to entre next phase of permitting.
* Pre-tax using gold price of $1,250 USD. After tax IRR is 32.3%
Investment Highlights
Grade: High-grade underground gold deposit, 7.0 g/t Au life of mine, fully diluted
Permitting: Environmental Assessment and permitting well advanced, Environmental Assessment Certificate expected in early 2018
FS: Feasibility study underway
Bulk mineable: low cost mining: average stope thickness 16 metres
Pro-mining jurisdiction: Stewart is home turf for the McLeod family
Rapid Payback and Expansion Potential: low cost mining, low capex and significant expansion potential
Fast Tracked: Near-term production; investment decision in 2018
Ease of Development: Close to work force, port, grid power and highway
Golden Triangle: Valley of Kings, Eskay Creek, Premier, KSM in same belt
Potential: Impressive Exploration upside along 16km mineralized trend
Expandable: Existing Resource wide open to expansion
Affordable: Sub US$100 million Capex
Strategic Shareholders: 79% with 11 major shareholders
Management and Directors
Robert McLeod, President and Chief Executive Officer, Director
Mr. McLeod is a professional geoscientist. Previously, he was founder and VP Exploration of Underworld Resources. He was VP Exploration and CEO of Full Metal Minerals Ltd. He has over twenty-three years' experience in mining and mineral exploration. He was previously Vice-President of Exploration for Atna Resources and is currently a director of Lithium-X, Genesis Metals, Redstar Gold, Independence Gold Corp. and Gold Standard Ventures.
Michael McPhie, Executive Chairman
In a career spanning more than 20 years Mr. McPhie has worked as a founder, director and executive leading the financing, permitting and development of resource projects on four continents. He is a specialist in regulatory, permitting, and governance issues in the mining sector globally. Mr. McPhie is the Founder and CEO of Falkirk Resource Consultants Ltd. and Managing Director of JDS Gold Ltd.
Susan Neale, Chief Financial Officer
Ms. Neale is a chartered accountant with over 20 years experience in corporate transactions, public markets and in-depth accounting and auditing, working with mineral exploration, development and operating companies in Canada and throughout the world.
Shobana Thaya, Investor Relations/Corporate Communication
Ms. Thaya is the principal of Vertex Strategies Inc., a Toronto based full-service marketing communications and investor relations firm.
Wayne Corso, Project Management – Engineering
Mr. Corso has over 33 years of diverse mining engineering experience. Over the past decade, Mr. Corso has been Vice-President of Engineering for JDS Energy and Mining Ltd.
Ryan Weymark, P.Eng., PMP, Project Director
Mr. Weymark was project manager of Ledcor Contractors Ltd. He was previously with Teck Resources Ltd., where he worked as a mining engineer, project manager, and short-range and long-range planning engineer.
Harry Pokrandt, Advisory Board
David Parker, Director
Andrew Farncomb, Director
Gernot Wober, Director
Duncan Middlemiss, Director
Please refer to IDM's website www.idmmining.com for complete biographies.
On May 26, 2017, IDM Mining Ltd. announced that it has completed the acquisition of the Red Mountain Gold Project from Seabridge Gold Inc. IDM acquired the 100-per-cent interest, subject to certain underlying agreements and royalties, pursuant to the option agreement entered into in April, 2014.
On May 23, 2017, IDM Mining Ltd. announced assays from the initial six underground core holes for the 2017 season at the Red Mountain gold project. To date, 23 underground drill holes have been completed as part of the continuing 2017 underground drilling program.
Drill Results Highlights:
U17-1228: 1.82 metres (true width) at 19.25 grams per tonne gold and 35.65 grams per tonne silver (AV zone stepout);
U17-1229: 6.23 metres (true width) at 12.95 grams per tonne gold and 48.83 grams per tonne silver (AV zone stepout);
U17-1231: 5.00 metres (true width) at 8.78 grams per tonne gold and 53.04 grams per tonne silver (AV zone stepout);
U17-1233: 25.00 metres (true width) at 6.15 grams per tonne gold and 37.69 grams per tonne silver (JW zone infill).