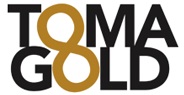 TomaGold Corporation
Company Data | Introduction | Projects in Hand | Management
News Update | Chinese
| | |
| --- | --- |
| Traded Market: | TSX-V |
| Traded Symbol: | LOT |
| Outstanding Shares: | 110,301,098 |
| Public Float: | 125,323,725 |
| 52 Week High: | $ 0.17 |
| 52 Week Low: | $ 0.04 |
| Present Price: | Click Here |
TomaGold Corporation is a Canadian mineral exploration company engaged in the acquisition, assessment, exploration and development of gold mineral properties.
To optimize its chances of discovery and minimize its exploration risk, TomaGold aims to develop high-grade gold properties with major mining companies. It has a joint venture agreement with IAMGOLD Corporation for the Monster Lake gold project and another with Goldcorp Inc. for the Sidace Lake gold project.
TomaGold has interests in seven gold properties in northern Quebec: Monster Lake, Winchester, Lac-à-l'Eau-Jaune, Monster Lake East, Obalski and Lac Cavan near the Chibougamau mining camp, and Urban Lake in Lebel-sur-Quévillon. It also holds interest in the Sidace Lake and Baird properties in the Red Lake mining camp of Ontario. Finally, it has an option to acquire a 70% interest in the Hazeur property, at the southern edge of the Monster Lake group of properties.
TomaGold's Project Portfolio:
Monster Lake Project (JV IAMGOLD): 45% TomaGold
Winchester Project (JV IAMGOLD): 50% TomaGold
Lac-à-l'Eau-Jaune Project (JV IAMGOLD): 50% TomaGold
Monster Lake East Project (Little Monster, Cookie Monster and Monster Island sectors): 100% TomaGold
Obalski Project: 100% TomaGold
Lac Cavan Project: 100% TomaGold
Urban Lake Project: 100% TomaGold
Hazeur Project: TomaGold has an option to earn up to 70%
Sidace Lake Project (JV Goldcorp): 39.5% TomaGold
Baird Project: 24.5% TomaGold
(1) Monster Lake Gold Project, Chibougamau, Northwestern Quebec (45% TomaGold / 50% IAMGOLD)
The Monster Lake gold project consists of 114 mineral claims covering an area of 3,336 hectares, located along a 4.5-km gold-bearing structure. It lies 44 kilometres southwest of the town of Chibougamau in northwestern Quebec. The property is easily accessible by road, and a high-voltage transmission line crosses the area nearby.
Project with over 70,684 metres of drilling completed
114 claims covering 3,336 ha located near known gold camps
Five major gold zones over 4.5 km gold corridor: 52, Mégane, 325, Annie and Eratix
Strong high-grade gold potential: over 25 drill intersections returning grades ranging from 10.0 to 237.6 g/t Au
Strong exploration potential as project comprises 12 other gold showings with economical grades
The best results of the 2016 winter diamond drilling (21 diamond drill holes totalling 8,105 metres):
Monster Lake Shear Zone and 325-Megane Zone
Hole ML-16-171: 1.21 metres grading 20.16 g/t gold
Hole ML-16-175: 0.71 metres grading 9.01 g/t gold, and 5.46 metres grading 2.68 g/t gold
Hole ML-16-176B: 0.63 metres grading 8.64 g/t gold
Hole ML-16-179: 4.26 metres grading 3.07 g/t gold
Hole ML-16-182: 1.31 metres grading 6.72 g/t gold
Best Results on Monster Lake (Megane-325 Area)
(Published October 7, 2015)
Hole #

From

(m)

To

(m)

Length

(m)

Au

(g/t)

Depth

(m)

M-25-11

49.50

54.00

4.50

101.20

40

M-13-99

217.00

223.00

6.00

32.60

170

M-13-101

281.50

285.00

3.50

48.90

275

M-13-106

256.20

261.00

4.80

37.10

235

M-13-94

226.50

231.80

5.30

11.50

187

M-13-93

244.35

250.20

5.85

33.60

217

M-13-95

288.40

295.60

7.20

42.00

278

M-13-98

274.60

280.30

5.70

26.00

280

M-13-105

355.90

367.20

11.30

8.65

325

M-12-108

457.00

467.47

10.47

11.50

390

M-14-110

636.86

640.63

3.77

13.65

400

M-14-130

477.00

487.60

9.18

46.33

390

M-14-131

491.55

495.50

3.42

18.68

360

M-14-132

439.80

448.00

7.10

6.74

325
Strong Results from Preliminary Metallurgical Scoping Study:
45 kg composite sample collected from 325 zone drill core
Average gold head grade of 4.8 g/t Au
Gold recovery of up to 96.3%
Composite sample taken close to surface, containing mainly quartz, as well as plagioclase and iron sulphides
Analysis show possible association of gold with iron sulphides
(2) Monster Lake East and Hazeur Gold Projects, Chibougamau, Northwestern Quebec
Exploration on Monster Lake East and Hazeur Properties which are adjacent to the Monster Lake Property
November 2015: High-definition magnetic VTEM-type airborne survey over Monster Lake East and Hazeur properties.
December 2015: Initiated a drilling program consisting of 11 holes totalling 1,783 metres on the Monster Lake East property. The program showed that these anomalies are related to the presence of disseminated pyrite at the edge of pillow basalts, with some showing a strongly magnetic rock of gabbroic composition. The program returned gold assay results of below 1 g/t gold.
July 2016: Initiated a 2,000-metre drilling program on Hazeur property.
On September 26, 2016, TomaGold announced the results of the drilling program. The best results were obtained in Holes HA-16-03 to HA-16-08.
Hole #

Length (m)

Grade (g/t Au)

HA-16-03

4.80
5.60

1.09
0.58

HA-16-04

1.95
5.25
1.25

6.50
1.63
4.47

HA-16-05

0.40

0.04 (VG)

HA-16-06

1.50

0.82

HA-16-07

13.50
3.00

0.40
0.48

HA-16-08

4.05
3.00

1.15
1.12
"This is a successful first drilling program, as it supports the presence of the mineralized structure of the Philibert deposit on the Hazeur property," said David Grondin, President and CEO of TomaGold.
(3) Obalski Gold Project, Chibougamau, Northwestern Quebec
TomaGold's 100%-owned Obalski gold project includes one mining concession and hosts seven separate mineralized zones, one 85-metre shaft and two ramps
230 holes were drilled on the property for a total of over 60,000 metres, most of which was surface drilling
In 1964, United Obalski Mining Co. Ltd. mined 90,093 tons grading 3.0 g/t Au, 6.2 g/t Ag and 1.53% Cu
Most recent drilling was done by a prospector in 2012, and consisted of six short holes drilled on Zone C.
Exploration demonstrated that the best gold grades are found in quartz-carbonate massive sulphide veins
Next step: compile all the data TomaGold has on hand and build a 3D model of the project, which might entail re-assaying of some of the samples
(4) Sidace Lake Gold Project, Red Lake Mining Camp, Ontario
TomaGold acquired a 39.5% interest in the Sidace Lake advanced gold project, and Goldcorp owns the remaining 60.5% interest
Property consists of 42 contiguous mining claims
NI 43-101 Indicated and Inferred resource of over 360,000 ounces of gold, at a 1.5 g/t Au cut-off grade
MDZ and UDZ zones are open laterally and at depth
Many common characteristics were identified between the MDZ gold mineralization and the Hemlo Deposit
Next step: evaluate existing data before starting next phase of exploration
Investment Highlights
Holds best strategy to optimize exploration results
Major transaction with IAMGOLD is a strong indicator of Monster Lake's gold potential
Acquired interests in new promising projects: Obalski and Sidace Lake (JV with Goldcorp)
All projects located in renowned mining camps close to mining infrastructures
Goal of securing additional JV agreements with Majors
Experienced management team
Management and Directors
David Grondin, BBA, President and CEO, Director
Mr. Grondin has over 15 years of experience in the financial and mining industries. He is also the president, chief executive officer and a director of NQ Exploration, and a director of Kilkenny Capital Corporation.
André Jean, P.Eng., Director of Exploration
Mr. Jean has over 30 years of experience in geology, having worked for multiple mining companies in Quebec, Central and South America and Africa, including Les Mines Seleine, Louvem, Lac Minerals and Osisko.
Martin Nicoletti, CPA, CGA, Chief Financial Officer
Mr. Nicoletti is a certified general accountant with more than 22 years of experience. He presently acts as chief financial officer for a number of public companies.
Robert Desjardins, Adm. A, Director
Mr. Desjardins is the president of Robert G. Desjardins et Associés Inc. He is also a director and a member of the audit committee of Strateco Resources Inc.
Vittorio Violo, Director
Mr. Violo brings financing, and mergers and acquisitions expertise to the Company. He is COO of PNS-Tech Inc.
Ciro Cucciniello, Director
Mr. Cucciniello has been a lawyer since 1986 and is a partner of the law firm Cucciniello Calandriello LLP.
Pierre Lepine, CPA, Director
Mr. Lépine is director of Dyncor Gold Mines Inc. since June 2014. He is also Executive Vice-President and co-founder of Groupe ABP.
On August 10, 2017, TomaGold Corp. announced that strategic investment of $2.5 million by Iamgold Corp. Iamgold Corp. has agreed to subscribe by way of private placement 27,777,777 common shares of TomaGold Corp. at a price of nine cents per common share for gross proceeds of approximately $2.5-million. On closing date of the transaction, Iamgold will own approximately 19.98 per cent of the issued and outstanding common shares of TomaGold on a non-diluted basis.
On July 6, 2017, TomaGold Corp. announced that its partner Iamgold Corp. has provided the remaining assay results from the winter 2017 drilling program completed at its Monster Lake joint venture project.
Drilling results highlights:
Monster Lake shear zone, Megane zone and Annie shear zone:
Drill hole ML17-197: 3.5 metres grading 67.42 grams per tonne gold:

Includes: 1.2 metres grading 203.31 g/t gold;
Drill hole ML17-198B: 5.0 metres grading 80.28 g/t gold:

Includes: 1.8 metres grading 208.41 g/t gold.
Lower shear zone:
Drill hole ML17-199: 1.6 metres grading 39.48 g/t gold:

Includes: 0.9 metre grading 66.50 g/t gold.
On March 16, 2017, TomaGold Corp. announced initial results from its 1,700-metre drilling program on its 100-per-cent-owned Obalski property located in Chibougamau, Northwestern Quebec.
Hole OB-17-02 intersected semi-massive sulphides grading 15.0 grams per tonne gold, 46.8 g/t silver and 10.4 per cent copper over two metres, including 21.3 g/t Au, 52.3 g/t Ag and 8.6 per cent Cu over one metre, at a vertical depth of 95 metres.
On January 23, 2017, TomaGold Corp. announced that it has started drilling on its Obalski gold property located in Chibougamau, Northwestern Quebec. The current program consists of about 1,700 metres of drilling in nine holes. The holes will target an area where mineralized zones A and B meet and are in contact with the Lac Dore anorthosite complex.
On November 29, 2016, TomaGold Corp. provided an update on its activities and a summary of its strategic plan for 2016/2017.
"In 2016, TomaGold significantly enhanced its property portfolio by acquired high-quality mining projects," said David Grondin, president and chief executive officer of TomaGold. "We signed agreements to acquire interests in three advanced gold development projects, some of which are under joint venture agreements with major mining companies. We are now at the next stage of our strategic plan, which consists of enhancing the value of our various projects. Our immediate objective is to close our financing, after which we will focus on developing our projects in Canada. We expect 2017 to be very active for TomaGold."
On October 26, 2016, TomaGold Corp. announced that it has closed its acquisition of Skyharbour Resources Ltd.'s interest in the Baird property in the Red Lake mining camp, in exchange for 600,000 shares of the corporation. As a result, TomaGold holds a 24.5-per-cent interest in the property, with New Gold Inc. holding a 24.5-per-cent interest and Goldcorp Inc., as operator, owning the remaining 51-per-cent interest. The property is currently subject to a 2-per-cent net smelter return.
TomaGold has also closed the acquisition of six additional claims with high-grade gold values covering 112.45 hectares from Torino Power Solutions Inc. in exchange for 1.2 million shares of the corporation. These claims are located in the middle of the block of claims held by TomaGold and Visible Gold, on the same mineralized structure that the Company believes hosts the Philibert deposit.