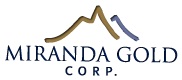 Miranda Gold Corporation
Company Data | Introduction | Projects in Hand | Management
News Update | Chinese
Address : 
15381 - 36th Avenue
Surrey, British Columbia
Canada V3Z 0J5
Tel No.:
+1-775-340-0450
Web Site:
www.mirandagold.com
E-mail:
joseph.hebert75@gmail.com
Contact Person:
Joseph Hebert
Position:
CEO & President, Director
| | |
| --- | --- |
| Traded Market: | TSX-V / OTC-BB / Frankfurt / Berlin |
| Traded Symbol: | MAD / MRDDF / MRG / MRG |
| Outstanding Shares: | 74,240,252 |
| Fully Diluted: | 100,988,552 |
| Public Float: | 74,240,252 |
| 52 Week High: | $ 0.12 |
| 52 Week Low: | $ 0.06 |
| Present Price: | Click Here |
Miranda Gold Corporation is a gold exploration company active in Colombia and Alaska. Miranda employs a prospect generator and joint venture business model. Miranda focuses on generating projects with world class discovery potential, and then joint ventures multiple projects to maximize the chance of discovery, while reducing economic risk and shareholder dilution. Miranda has ongoing relationships with Prism Resources, Inc., Montezuma Mines Inc., and Gold Torrent, Inc.
Miranda is exploring for world-class gold deposits in Colombia and developing a high-grade gold mine in Alaska.
Colombia
Miranda feels that Colombia of all South American countries has the best potential for new gold discoveries. Colombia is an under-explored frontier that offers companies like Miranda the opportunity to discover multi-million ounce, outcropping gold deposits.
Miranda currently has three Colombia projects:
Cerro Oro Project: Disseminations and veins, low sulfidation epithermal system
Antares Project: Intrusive related gold system
Oribella Project: High-intermediate sulfidation system telescoped on Au-Cu porphyry.
Drill ready targets exist at Cerro Oro, Oribella and Antares. Cerro Oro is in JV with Prism Resources Inc.
(1) Cerro Oro Project
The Cerro Oro project lies within the department of Caldas, approximately 120 km south of Medellin. Miranda has a Joint Venture Agreement with Prism Resources Inc. whereby Prism can earn up to 70% interest in the project. Prism is the funding partner and Miranda is the operator.
On April 1, 2014, an exploration contract for the Cerro Oro project was issued by Agencia Nacional de Minera ("ANM").
Miranda has completed geologic mapping and extensive 2-meter channel sampling. Approximately 416 channel samples have been taken. Twenty percent of those samples assay greater than 0.2 g/t Au. Multiple sub-parallel one to two meter width veins are identified within an area of alteration greater than 1 sq. km. Veins assay as high as 2m at 12 g/t Au and mineralized wall rock assay up to 6.5m at 1.98 g/t Au.
On April 27, 2016, Miranda announced a planned drill program for the Cerro Oro Project. Four to five angle holes totaling 1,000 m are planned. Drilling is anticipated to begin before the end of May 2016, to drill-test a low sulfidation epithermal system at Cerro Oro that has the potential for high-grade gold veins within broader zones of lower grade disseminated and fracture controlled mineralization.
(2) Antares Project
The Antares project covers a large intrusive related gold system with both veinlet and sheeted fracture controlled gold mineralization. The project is located 20km east northeast of Medellin and 45km west southwest of the Gramalote deposit within the Antioquia Batholith. Miranda is seeking a joint venture partner for the Antares project.
Miranda's exploration model at Antares is for an intrusive-related sheeted vein-fracture system analogous to the Gramalote deposit.
| | |
| --- | --- |
| Antares: | Gramalote: |
| Continuous mineralized samples | 6 million ounces of gold, NI 43-101 |
| Antioquia granite batholiths hosted | Antioquia granite batholiths hosted |
| Hydraulic gold mining in-situ granite | Hydraulic gold mining in-situ granite |
| In-situ bulk mineralized granite, 160 x 310 meter area of continuous channel samples from 0.4 to 9 g/t, up to 25m at 2.8 g/t Au. | Probable first open pit Au mine in Colombia |
(3) Oribella Project
The Oribella project is located in the Antioquia Department of Colombia, lies about 40km southwest of Medellin. Miranda is seeking a joint venture partner for the Oribella project.
Former Barrick project
Epithermal gold telescoped on porphyry
1.5km anomaly-open
High grade copper porphyry with Au in breccias pipes and faults
Same western suture zone as Anglo Quebradona (800 Mt at 1.9% Cu and 0.78 g/t Au)
Trenching returned 12m at 1.05 g/t Au
Alaska
Willow Creek Project
In Alaska, Miranda and its joint venture partner Gold Torrent, Inc. are developing a high-grade underground past-producing gold mine in the Willow Creek mining district, approximately 75 miles (121 km) north of Anchorage, Alaska.
Miranda and Gold Torrent are focused on placing Willow Creek back into production. Historical production (1918-1943) from the district was 660,000 ounces at an average grade of 1.2 ounce per ton gold. Mining ceased during WWII.
Gold Torrent will spend the initial US$10M in development costs (total estimated to be $16M) to earn a 70% interest in the project. Miranda optioned a 3.3 % Net Smelter Royalty at Willow Creek. Forecast production to Miranda's account will cover annual burn rate.
An updated NI 43-101 mineral resource for the Willow Creek Project contains 121,500 ounces of gold at 18.3 g/t Au in Measured and Indicated, and 35,100 ounces of gold at 18.5 g/t Au in Inferred.
2016 Updated Mineral Resource Estimate (cut off grade: 5.0 g/t Au)

Classification

Gold

Tonnes

g/t

Ounces

Measured

57,900

26.8

49,900

Indicated

148,600

15

71,600

Measured + Indicated

206,600

18.3

121,500

Inferred

59,000

18.5

35,100
Miranda Gold Strategies
Discovery: Drilling in 2016-17 could lead to significant grass roots discovery at either Antares and/or Cerro Oro
Seek Funded Exploration Alliances: to replace the Agnico Eagle alliance in Colombia that ended in January 2016 after 3 year term
Secure annual burn rate from operating JVs: Willow Creek Production JV first of this type; high grade, low capex, near term production in late 2016.
Cash Conservation: Continue to conserve cash by way of cost reductions and securing additional funding partners
M&A: Look for opportunities in depressed market to acquire advanced exploration assets of not less than 2M quality ounces
Management and Directors
Joseph Hebert, B.S. Geo., President, Chief Executive Officer and Director
Mr. Hebert has been with Miranda since May 2004. Mr. Hebert brings 30 years of experience from diversified mineral exploration and mining geology through to senior geologist and exploration management. 24 of these years have been focused in Nevada. Most recently, Mr. Hebert was senior exploration geologist for the Cortez Joint Venture (Placer Dome and Kennecott Minerals) located on the Battle Mountain Trend in North Central Nevada. He was a member of the exploration team who discovered the +8.5 million ounce Cortez Hills deposit. Mr. Hebert is credited with team participation in multiple gold discoveries in Nevada and Utah over the course of his career and was instrumental in assembling the Company's exploration staff in Elko, Nevada and Medellin, Colombia.
Len Goldsmith, CPA, CGA, FCCA, CertIFR, Chief Financial Officer and Corporate Secretary
Mr. Goldsmith has served as corporate controller for a number of TSX listed companies, including Miranda Gold. Previously, he was Chief Financial Officer of a TSX-V listed company, as well as serving as accountant for Hudson Bay Mining & Smelting and Peace River Coal (Anglo American PLC).
Kenneth D. Cunningham, M.S. Geo, B.S. Geo, P.Geo, Chairman and Director
Mr. Cunningham has 39 years of worldwide mineral exploration experience. During his career he has been involved in gold, copper and uranium discoveries. He has held executive positions with Nevada North Resources, Uranerz U.S.A., Inc. and Tenneco Minerals Company. Since joining Miranda in 2003 he has helped assemble a talented exploration team, raised public awareness of the company and raised over CA$13 million for the company treasury.
James F. Cragg, Director
Kevin Nishi, Director
On June 23, 2016, The TSX Venture Exchange has accepted for filing documentation with respect to a non-brokered private placement announced June 3, 2016, and June 15, 2016.
Number of shares: 29,140,555 shares
Purchase price: nine cents per share
Warrants: 29,140,555 share purchase warrants to purchase 29,140,555 shares
Warrant exercise price: 12 cents for a five-year period
On June 23, 2016, Miranda Gold Corp. announced that it has closed a non-brokered private placement with aggregate gross proceeds of $2,622,650 from the sale of 29,140,555 units at a price of nine cents per unit.