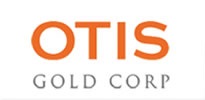 Otis Gold Corp.
Company Data | Introduction | Projects in Hand | Management
News Update | Chinese
Address : 
Suite 580 – 626 Howe Street
Vancouver, BC
Canada V6C 2T6

Tel No.:
604-683-2507
Web Site:
www.otisgold.com
E-mail:
craig@otisgold.com
Contact Person:
Craig Lindsay
Position:
CEO
| | |
| --- | --- |
| Traded Market: | TSX-V |
| Traded Symbol: | OOO |
| Outstanding Shares: | 130,385,407 |
| Public Float: | approx. 60 million |
| 52 Week High: | $ 0.42 |
| 52 Week Low: | $ 0.10 |
| Present Price: | Click Here |
Otis Gold Corp. is a resource company focused on the acquisition, exploration, and development of precious metal deposits in Idaho, USA. Otis is currently developing its flagship property, the Kilgore Gold Project, located in Clark County, Idaho.
Four projects located in Idaho, USA:
Kilgore Project (Au) – 100% ownership
Oakley Project (Au/Ag) – 80% ownership
Gold Bug Project (Au) – 100% ownership
Hai Project (Au) – 100% ownership
Otis is focused on developing the Kilgore Project through to a commercial production decision. Otis is committed to growing in a sustainable manner and minimizing its environmental impact.
Kilgore Gold Project
Otis' wholly owned Kilgore Gold Project consists of 436 federal lode mining claims totalling 8,720 acres (or 35.3 km), located in southeastern Idaho within Clark County, 60 miles north of Idaho Falls. The project has excellent infrastructure, is accessible by road approximately 32 miles northeast of the town of Dubois and Interstate Highway 15.
The Kilgore Deposit is part of an extensive low-sulfidation quartz-adularia epithermal hydrothermal system hosted in Tertiary volcanic rocks and Aspen Formation calcareous siltstone, shale, and sandstone of Late Cretaceous age. Gold mineralization is of the disseminated, bulk-tonnage type similar to that comprising the classic volcanic-hosted gold deposits at Round Mountain, Nevada and McDonald Meadows, Montana. The Kilgore Deposit exhibits attractive metallurgy with excellent gold recovery averaging greater than 80% at 1.5" crush size based on column leach test results. A new NI 43-101 compliant resource estimate is planned for this year to include the newly recognized Sill/Aspen mineralization.
Project Overview
Advanced-stage open pit, heap leach gold project
Volcanic hosted low sulphidation quartz adularia epithermal gold system analogous to Round Mountain, Nevada (Kinross: current gold equivalent production of 200,000 ounces per year). Open pit heap leach recovery potential.
Formerly mined by Blue Ledge Mining Company in the mid 1930s (high grade underground operation).
Echo Bay planned to put Kilgore Deposit into production as open-pit
The Kilgore Deposit current NI 43-101 compliant resource estimate (dated September 12, 2012):

Indicated resource of 520,000 oz Au in 27.4 million tonnes at a grade of 0.59 g/t
Inferred resource of 300,000 oz Au in 20.2 million tonnes at a grade of 0.46 g/t

The Kilgore Deposit is 1,000m long x 600m wide and open in multiple directions
Drill results from 2012, 2015 and 2016 (post the Company's current NI 43-101 resource estimate) have encountered grades and intercepts significantly thicker and richer than existing resource. Multiple well-defined high-priority exploration targets present to potentially expand resource size.
Oxide deposit with excellent metallurgy (gold recoveries of 85% on 1.5" crush material with no crush size sensitivity).
Low projected strip ratio of 1.5:1.
Oakley Gold Project
The Oakley Gold Project, located in Idaho, USA, is comprised of three primary targets (Blue Hill Creek, Matrix Creek and Cold Creek) and covers an area of approximately 4,000 acres.
Intermediate-stage exploration target
Recent drill hole of 123m at a grade of 0.691 g/t Au (see Otis news release dated February 5, 2015)
Oakley has a NI 43-101 compliant resource estimate:

Inferred 163,000 oz Au at a grade of 0.51 g/t

Available for joint venture
Investment Highlights
Otis is a development story with an established and growing gold resource located in mining-friendly Idaho
Otis owns a 100% interest in the Kilgore Gold Project (subject to no royalties or residual interests)
Excellent drill results:

2011 and 2012 drill intercepts include 121.9 m @ 1.04 g/t Au, 118.8 m @ 0.89 g/t Au, 114.3 m @ 0.89 g/t Au, 83.8m @ 1.12 g/t Au and 82.3m @ 0.89 g/t Au
2015 drill intercepts include 56.4 m @ 2.05 g/t Au, 59.5 m @ 3.79 g/t Au, 50.3 m @ 4.24 g/t Au and 94.5 m @ 4.21 g/t Au
2016 drill intercepts include 30.5m @ 5.37 g/t Au, 85.4m @ 2.5 g/t Au, 128.0m @ 1.78 g/t Au, 120.4m @ 1.55 g/t Au and 80.8m @ 1.87 g/t Au
Aspen Corridor is open laterally to NW and SE and at depth providing clear path to Kilgore Deposit resource and grade expansion

Strong potential for new Kilgore discoveries at Gold Ridge, Prospect Ridge and Dog Bone Ridge targets
Updated Kilgore NI 43-101 Resource Estimate expected in 2017
Up to 10,000m drilling in 2017 (including Phase One program at emerging Gold Ridge target)
Experienced and committed management and technical team (comprising exploration, permitting, production, management and finance expertise)
Management and Directors
Craig Lindsay, MBA, CFA, President, Chief Executive and Director
More than 20 years experience in corporate finance, investment banking and business development in both North America and Asia
Co-Founder and Former CEO of Magnum Uranium Corp.
Former VP, Investment Banking of PricewaterhouseCoopers LLP
Founder of Malaspina Capital Ltd.
Co-Founder of OneAsia.com (Holdings) Ltd.
Former Partner of Pacific Rim Group (Hong Kong and Vancouver)
Director of Alianza Minerals Ltd. and Philippine Metals Inc.
Current Vice Chairman of Hong Kong-Canada Business Association
Current Managing Director of Arbutus Grove Capital Corp.
Mitch Bernardi, M.Sc. Geology, Chief Geologist
Over 30 years of experience in the mining industry
Former Senior Geologist of Echo Bay Mines Ltd.
Former Chief Geologist of Magnum Uranium Corp.
Extensive mineral exploration experience in Western USA
Dr. John R. Carden, Ph.D, Lic. Geo, Consulting Geologist
More than 30 years experience in exploration management, teaching, and research
Former Director of US Exploration: Echo Bay Mines Ltd.
Extensive mineral exploration experience in Western USA with several gold deposit discoveries to his credit (Lamefoot and Easy Junior)
Director of Paramount Gold Nevada Corp.
Dr. Roger Norwich, Director
Dr. Donald E. Ranta, Ph.D, P.Geo, Director
Dr. Tim Miller, MBA, DBA, CIPD, Director
Eric Klepfer, Advisory Board
Dr. Roger Morton, Advisory Board
Please refer to Otis's website www.otisgold.com for complete biographies.
On February 24, 2017, Otis Gold Corp. announced strategic investment by Agnico Eagle Mines Ltd. Agnico has agreed to acquire, by way of private placement, 14.42 million common shares of Otis Gold Corp. at a price of 35 cents per common share for proceeds of $5,047,000. On closing of the transaction, Agnico will own approximately 9.95 per cent of the issued and outstanding common shares on a non-diluted basis. The proceeds from the transaction shall be primarily used for exploration at the Kilgore gold project located in Clark county, Idaho, as well as working capital and general corporate purposes.