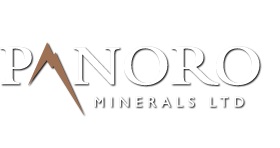 Panoro Minerals Ltd.
Company Data | Introduction | Projects in Hand | Management
News Update | Chinese
Address : 
Suite 1610, 700 West Pender Street
Vancouver, BC
Canada V6C 1G8
Tel No.:
604.684.4246
Fax No.:
604.684.4200
Web Site:
www.panoro.com
E-mail:
info@panoro.com
Contact Person:
Luquman Shaheen
Position:
President & CEO
| | |
| --- | --- |
| Traded Market: | TSX-V |
| Traded Symbol: | PML |
| Outstanding Shares: | 258,148,765 |
| 52 Week High: | $ 0.22 |
| 52 Week Low: | $ 0.13 |
| Present Price: | Click Here |
Panoro Minerals Ltd. is a uniquely positioned Peru focused copper exploration and development company. The Company is advancing a significant project portfolio in the prolific Andahuaylas-Yauri belt in south central Peru, including its advanced stage Cotabambas Copper-Gold-Silver and Antilla Copper-Molybdenum Projects.
Since 2007, the Company has completed over 70,000 m of exploration drilling at these two key projects leading to substantial increases in the mineral resource base for each.
The Company has completed Preliminary Economic Assessments for both the Cotabambas and Antilla Projects with a combined Net Present Value of $US 909 million. The Company has key shareholders such as Hudbay Minerals and financial partners such as Silver Wheaton helping to finance ongoing project growth.
The Company is well financed to expand, enhance and advance its projects in the region where infrastructure such as railway, roads, ports, water supply, power generation and transmission are readily available and expanding quickly.
(1) Cotabambas Copper-Gold-Silver Project, Peru
Current mapping, trenching and sampling work has identified fourteen gold oxide anomalies extending from the northern pit limit, as outlined in the Preliminary Economic Assessment (PEA), to approximately 900 m, towards the northeast along the local faulting structures. The zone encompassing the fourteen anomalies corresponds to an area of pervasive argillic alteration extending over a total of approximately 1.3 km along strike. Eleven of these gold oxide anomalies have been identified outside the PEA pit limit over an area of approximately 1.0 km by 1.4 km.
The delineation of additional gold oxide mineralization opens the potential to add a gold oxide leach operation to the project plan included in the PEA. The newly defined gold oxides and the gold oxides included in the project resource contain low Cu grades, presenting favorable conditions for potential leaching of the contained gold and silver. The location of the anomalies, to the north of the PEA pit and at relatively shallow depths from surface, can lead to potential mining and processing in the early part of the Cotabambas Project mine life with potential material increases to the project cash flow, decreased operating costs and increased project economic indicators of NPV and IRR.
The Company has commenced a 14,000 m exploration drill program in May 2017. Mapping, trenching and geophysics work was commenced in January 2017, following the completion of the Community Agreement, and is nearing completion. The 2017 drill program will be targeting the newly identified near-surface, gold oxide mineralization zone; as well as the previously identified targets of:
High grade, near-surface sulphides at the Maria Jose zone; and
Near-surface copper oxides at the Cochapata zone.
All of these targets are within the Company's permit area. In 2017, the Company expects to expand its exploration permit to include the area of the Chaupec target where a drill program will target the 3 km long zone of Skarn and Porphyry mineralization.
(2) Antilla Copper-Molybdenum Project, Peru
The Antilla Copper-Molybdenum project is located 140 km southwest of the City of Cusco in the Apurimac Region of Southern Peru. Panoro is assessing the potential to re-scope the design of the Antilla Project to permit a staged development plan which should reduce initial capital costs. This work will assess the potential for early mining of a near surface, high grade zone of chalcocite mineralization.
Scaled, Staged Development Plan
Focused on reducing development capex and enhancing project returns
Develop low-cost, high-margin leaching operation
Reduce development capital requirements to pave the way to financing
Focus on higher grade resource to maintain project returns
Summary of Cotabambas and Antilla Projects PEA Results

Key Project Parameters

Cotabambas Cu/Au/Ag Project

Antilla

Cu/Mo Project

Mill Feed, life of mine

million tonnes

483.1

350.4

Mill Feed, daily

tonnes

80,000

40,000

Strip Ratio, life of mine

1.25 : 1

0.85 : 1

Before
Tax1

NPV7.5%

million USD

1,053

491

IRR

%

20.4

22.2

Payback

years

3.2

3.3

After
Tax1

NPV7.5%

million USD

684

225

IRR

%

16.7

15.1

Payback

years

3.6

4.1

Annual Average Payable
Metals

Cu

thousand tonnes

70.5

36.8

Au

thousand ounces

95.1

-

Ag

thousand ounces

1,018.4

-

Mo

thousand tonnes

-

0.9

Initial Capital Cost

million USD

1,530

603

1 Project economics estimated at commodity prices of: Cu = US$3.00/lb,

Au = US$1,250/oz, Ag = US$18.50/oz, Mo = US$12/lb
Cotabambas and Antilla Projects Resources

Project

Resource Category

Million Tonnes

Cu (%)

Au (g/t)

Ag (g/t)

Mo (%)

Cotabambas

Indicated

117.1

0.42

0.23

2.74

0.001

Inferred

605.3

0.31

0.17

2.33

0.002

@ 0.20% CuEq cutoff, effective October 2013, Tetratech

Antilla

Indicated

291.8

0.34

-

-

0.01

Inferred

90.5

0.26

-

-

0.007

@ 0.175% CuEq cutoff, effective May 2016, Tetratech
Conclusions
Cotabambas Project: Large scale copper project, greater potential, strategic location
Antilla Project: Moderate scale project, infrastructure ease
Financed: $14.1M to $23.1M funded to 2018, Silver Wheaton Agreement
Copper: Principal commodity with supply constraints coming and demand strong
Peru: Key copper producing nation with national goal to become largest copper producer nation
Growth: 400% increase of in-situ metal, PEA's completed, Cotabambas growth funded, Antilla scalability
Management and Directors
Luquman Shaheen, P.Eng., MBA, President & Chief Executive Officer & Director
Over 26 years experience in mining sector, 20 years experience in Peru and Latin America
Shannon Ross, CPA,CA, Chief Financial Officer
Over 25 years experience in accounting and financial management in the public and mining industry
Yves Barsimantov, Vice President Operations & Peru General Manager
20 years management experience with Peruvian banking, fishing and mining sectors
Luis Vela, P.Geo., MSc.Econ.Geology, Vice President Exploration
Over 25 years exploration experience in Peru and Chile mining sectors
William Boden, CPA,CA, Chairman
Former Chairman of First Coal Corporation
Augusto Baertl, Director
Over 50 years of experience in the Peruvian and International Mining sectors
Ronald Hall, Director
Over 40 years of experience in the management, operation, evaluation and design of mining projects globally
Anthony Laub, Director
Partner at Laub & Quijandria Consultores y Abogados
Christian Pilon, Executive Director Peru, Director
Over 30 years of experience in applied geophysics and mining sector, resident in Peru
Christiaan Staargaard, P.Geo., Director
President, Staargaard Geological Inc.
Lorne Torjhelm, Director
President RNJ Ventures
Please refer to Panoro's website www.panoro.com for complete biographies.
On May 23, 2017, Panoro Minerals Ltd. announced that it has commenced a 14,000 m exploration drill program at its 100% owned Cotabambas Project in Peru, targeting high grade, near surface, low cost expansion potential.
The exploration program is targeting resource growth from four zones within Cluster 1 at the Cotabambas Project. The targets include high grade, near surface sulphides, oxide gold and oxide copper in close proximity to the proposed North Pit.