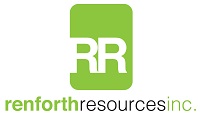 Renforth Resources Inc.
Company Data | Introduction | Projects in Hand | Management
News Update | Chinese
| | |
| --- | --- |
| Traded Market: | CSE |
| Traded Symbol: | RFR |
| Outstanding Shares: | 106 million |
| 52 Week High: | $ 0.085 |
| 52 Week Low: | $ 0.03 |
| Present Price: | Click Here |
Renforth Resources Inc. has built a portfolio of five projects located on, or in the immediate vicinity of the Cadillac Break, stretching over 325 km between the Kirkland Lake Mining Camp in Ontario and the Val d'Or Mining Camp in Quebec, Canada. The Cadillac Break is a major geological structure that has produced more than 100 million ounces of gold since the beginning of the 1920s. Still today, this structure remains one of the most productive in Canada.
New Alger Project
The gold-resource-bearing New Alger project is located on the Cadillac Break, approximately equidistant between Rouyn and Val d'Or, Quebec. This property presently consists of both the historic Thompson-Cadillac mine where Renforth established a maiden inferred resource of 3,505,000 tonnes containing 237,000 ounces of gold at a grade of 2.1 g/t Au (July 17, 2014) at surface. This shares the vein structure of the adjacent historic producer of greater than 500,000 ounces of gold at an average grade of approximately 15 g/t Au – the O'Brien mine.
Also on the property is Renforth's discovery of gold-bearing quartz veins on surface in the sediments south of the mine. This vein system has been traced over 450 metres and returned grades including 11.6 g/t Au over 0.5 m (press release Dec. 9, 2014), this surface discovery is not included in the resource. Renforth has successfully stripped a 230-metre portion of the gold-bearing surface quartz veining.
Renforth has received the assay results and has compiled these into a map, showing the mine area and the discovery veins together. Renforth is reviewing this map to identify areas from which it will likely blast to recover a large sample size to process for recovery. To aid in the planning of this Renforth has commenced a geophysical compilation and interpretation.
Renforth has identified in the field, and an initial review of geophysics seems to support, that there is a connection between the Mine Area resource and the Discovery Vein through a mineralized, offsetting fault. This interpretation is quite interesting and will require some examination. The underground workings in the area of the Discovery Vein also supports this interpretation, this will all guide next steps in the Discovery Vein area, both in obtaining a large sample through blasting and in additional stripping work. The Discovery Vein is very exciting as the scale of the structure, and the potential relationship with the Mine Area/Cadillac Break, significantly increase the gold bearing structures on the property.
Parbec Project
Renforth has recently completed a field program on its gold-resource-bearing Parbec property, located contiguous to the large, open-pit Canadian Malartic mine, on the Cadillac Break outside the town of Malartic, Quebec. This program resulted in the discovery of a new gold mineralization type at Parbec, press released on July 12, 2017, this mineralization is outside of the area of the maiden gold resource established by Renforth at Parbec in March, 2016. That resource tonnage consists of 263,230 tonnes Indicated at a grade of 3.62 grams per tonne gold containing 33,592 ounces and 7,256,872 tonnes Inferred at a grade of 2.01 g/t Au representing 514,108 ounces (press release March 7, 2016).
Using the results from this program Renforth has commenced a drill program and has planned 14 holes. Renforth is drilling from the east, in the resource area to target unsampled areas and mirror historical results where the logging is not clear. Drilling to date is going very well.
Denain Pershing Project
The Denain Pershing property is gold bearing, including drill results of 145 g/t Au over 0.3m in a shear zone, a gold bearing iron formation and is interpreted to host the confluence of the Cadillac Break and the Grenville Front, with little to no surface exploration done in this prospective environment.
Renforth has commenced the first ever airborne survey on the Denain Pershing property, straddling the very eastern end of the Cadillac Break. The survey is going nicely. This is exciting as, in addition to a few showings on the property the Company has the potential continuation of a gold bearing banded iron formation in the north onto the southern end, along with a very prospective geological setting in the confluence of the Cadillac Break and the Grenville Province – two significant geological structures meeting.
West Malartic Project
SOQUEM has optioned the West Malartic property in July of 2017, and will spend $1.3 million over 3 years to earn 50% interest in the property. SOQUEM is doing this through a first step ~400k geophysical survey where SOQUEM is cutting line and then doing ground IP. The target of SOQUEM's exploration efforts is the theory that porphyry dykes, which continue from the adjacent Canadian Malartic property will prove to be gold bearing on the West Malartic property.
Nixon-Bartleman Project
In Ontario, Renforth holds the gold-bearing Nixon-Bartleman property, located west of Timmins. This property has seen intermittent exploration, with a significant amount of work done, including Renforth's own surface channel which assayed 22.1 g/t Au over 0.3 m (press release Sept. 10, 2014), part of a structurally controlled mineralized system now traced over 450 m on surface. The Nixon-Bartleman property is not seeing any immediate exploration work.
Management and Directors
Nicole Brewster, President and Chief Executive Officer, Director
Kyle Appleby, CA, Chief Financial Officer
Wally Rudensky, Independent Director, Audit Chair
David Wahl, P.Eng., P.Geo., ICD.D, Technical Director
Judi Wood, Independent Director
John S. Webster, Independent Technical Director
On July 3, 2018, Renforth Resources Inc. announced that it has resumed drilling at Parbec gold deposit with a planned 1,500-metre, seven-hole drill program. Each of these holes is designed to extend known mineralization at Parbec.
On June 21, 2018, Renforth Resources Inc. has released results obtained during its recent surface prospecting program at Parbec, where the Company met its main objective in the program, locating the historically mapped diorite body and determining it to be a gold-bearing magnetic diorite.
Highlights:
Gold-bearing magnetic diorite system intersected on surface south of Cadillac break;
Historically mapped diorite body proven gold bearing;
Mineralized historical trenches rediscovered in extreme northwest of property;
Additional gold-bearing sample obtained in Island trenches discovery area.
On June 18, 2018, Renforth Resources Inc. announced that it has closed its previously announced private placement with proceeds of $317,500 raised by way of the issuance of 6.35 million units at five cents per unit.
On June 6, 2018, Renforth Resources Inc. announced that Eagle Geophysics, of La Sarre, Que., will fly a tightly spaced heli-mag survey over Renforth's Parbec property to acquire detailed data to aid in continuing deposit interpretation.
On May 22, 2018, Renforth Resources Inc. is commencing a detailed surface mapping and prospecting program at Parbec targeting interpreted stacked diorite sills south of the Cadillac break in the southwestern corner of the property. Geophysics indicate that this diorite body is magnetic and significant in size. Drilling to date has demonstrated that diorites on this property host mineralization; specifically, gold is found in silicified, fractured sulphidic sections of diorite bodies. Feldspathic and albite alteration is noticeable in the highest-grade sections.
On May 14, 2018, Chalice Gold Mines Ltd. has completed its due diligence and has elected to proceed with the option on Renforth Resources Inc.'s Denain-Pershing property, as previously announced.
On May 09, 2018, Renforth Resources Inc. has released its most recent Parbec drill results, including an intersection of 3.64 grams per tonne gold over 19.3 metres in PAR-18-78 in chlorite schist and diorite, which includes 4.2 m grading 11.7 g/t Au in a magnetic diorite body. The next steps at Parbec will include data integration and interpretation, this will focus on a better understanding of data and information between historic drill logs, current drill core, geophysical and structural data, mineralogy, and geochemistry in order to identify the extent of the newly recognized magnetic diorite body and formulate future exploration targets.
On May 03, 2018, Renforth Resources Inc. has granted an earn-in option on the Denain-Pershing property to Chalice Gold Mines Ltd. In addition, Chalice has agreed to participate in Renforth's next financing transaction in the amount of $250,000, on the same terms (to be determined) as other participants. In order to earn an 80-per-cent interest in the Denain-Pershing property, Chalice will, over a three-year period, make payments to Renforth totalling $200,000 and spend $1.25-million in work on the property. Once Chalice has earned its interest, an 80/20 joint venture will be formed between Chalice and Renforth.
On April 25, 2018, Renforth Resources Inc. has drilled five drill holes, totalling 1,269 metres, to extend the Parbec deposit. Drill hole PAR-18-77 intersected 1.1 grams per tonne Au over 7.5 m, successfully extending the deposit strike by 100 m to the east of the deposit, the first drilling on the eastern end.
On March 21, 2018, Renforth Resources Inc. announced that continuing definition drilling has resumed on its Parbec resource property, located on the Cadillac Break, tied onto the Canadian Malartic mine in Malartic, Que.
Renforth also announced that 840 kilometres of a high-resolution Quadri-Mag, VLF (very low frequency) and AFMAG heliborne survey were completed the first week of March by Eagle Geophysics. The data obtained are currently being processed and interpreted.
On March 1, 2018, Renforth Resources Inc. announced that Eagle Geophysics of Sorel, Que., has been retained by Renforth to fly a helicopter borne high-resolution quadri-mag, very low frequency and AFMAG survey over Renforth's New Alger project.
On February 28, 2018, Renforth Resources Inc. announced that during Renforth Resources Inc.'s recently completed thin-section petrographical work on the Discovery veins at New Alger, several grains of visible free gold have been identified.
On February 26, 2018, Renforth Resources Inc. has released results from its 1,619-metre, January, 2018, drill program at Parbec. Each of the seven holes drilled in January, 2018, returned gold values, including the longest two intersections obtained by Renforth to date: PAR-18-73 averaged 1.44 grams per tonne gold over a length of 32.6 metres, and PAR-18-74 graded 1.23 g/t Au over 33.2 metres.
On February 14, 2018, Renforth Resources Inc. announced that it has completed the January, 2018, drill program on its Parbec gold resource property where 1,619 metres were drilled in seven drill holes and 886 samples selected for assay.
On February 7, 2018, Renforth Resources Inc. announced that stripping work completed in the Fall of 2017 has identified an ~565m2 bulk sample target area with an average grade of 0.76 g/t Au located in two veins.
On February 5, 2018, Renforth Resources Inc. announced that it has completed the airborne geophysical program at its Denain property. The survey concluded that the Cadillac break continues onto the Denain-Pershing property for approximately three kilometres after passing through a fault zone.
On February 1, 2018, Renforth Resources Inc. announced that it has staked 33 whole or fractional claim units and has acquired 25 whole or fractional claim units, increasing the size of the southern portion of the New Alger property.
On January 23, 2018, Renforth Resources Inc. announced that its December, 2017, drilling has extended the mineralized resource model horizons at Parbec by 60 metres on strike to the northwest with gold intersected in each of seven holes. Renforth drills 23.2 m of 1.25 g/t Au at Parbec.
On December 14, 2017, Renforth Resources Inc. announced that it has completed the first four drill holes totalling 704 metres at its Parbec property, located contiguous to the Canadian Malartic mine. Each of the drill holes has intersected the anticipated lithologies as projected for each hole. All holes have intercepted significant disseminated and stringer pyrite mineralization in association with potassic alteration and quartz vein stockworking.
Renforth completed a first closing of the previously announced financing, issuing 890,000 common shares and 1,733,333 flow-through shares against the receipt of $148,500.
On December 4, 2017, Renforth Resources Inc. announced that SOQUEM has commenced an IP survey over 141.3 line kilometres on Renforth Resources Inc.'s West Malartic property.