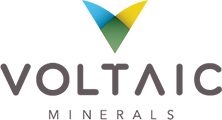 Voltaic Minerals Corp.
Company Data | Introduction | Projects in Hand | Management
News Update | Chinese
Address : 
Suite 1450 – 789 West Pender Street
Vancouver, BC
Canada V6C 1H2
Tel No.:
+1 604 681 1568
Fax No.:
+1 604 681 8240
Toll Free No.:
+1 877 377 6222
Web Site:
www.voltaicminerals.com
E-mail:
info@voltaicminerals.com
Contact Person:
Joel Faltinsky
Position:
Investor Relations
| | |
| --- | --- |
| Traded Market: | TSX-V / FSE |
| Traded Symbol: | VLT / 2P61 |
| Outstanding Shares: | 39,314,700 |
| Public Float: | 39,314,700 |
| 52 Week High: | $ 0.52 |
| 52 Week Low: | $ 0.045 |
| Present Price: | Click Here |
Voltaic Minerals Corp. is a Vancouver-based lithium exploration company which owns 100% of the Green Energy Lithium Project in the historic Paradox Basin of Utah, USA. Voltaic Minerals Corp. is also commencing process development and optimization using a Lithium Selective technique developed by Enertrex Corp. in accordance to a signed Memorandum of Understanding (MOU) agreement. The Selective technique varies from traditional solar evaporation methods and has the potential to produce Lithium Carbonate from Lithium-bearing brines for end users.
The Company's focus will be on advancing the Green Energy Project and Selective Lithium process simultaneously to provide access to the Green revolution in battery technology.
Increasing Lithium Demand
Annual sales of lithium salts worldwide are estimated at US$1 Billion. With both demand and price set to surge, this figure could grow dramatically.
The Global Lithium Compounds Market was valued at US$ 2.64 billion in 2014, and is projected to grow at a CAGR of 13.22% from 2015 to 2020 (Source: Research and Markets).
Long term US Lithium contract prices have increased 50% since 2014 (Source: Benchmark Mineral Intelligence).
China spot prices for battery grade lithium carbonate spiked to over US$25,000 per ton (tripling the price 1 year earlier – US$7,000 per ton).
Green Energy Lithium Project, Southeastern Utah, USA
The Green Energy Project encompasses 4,160 acres of Bureau of Land Management (BLM) claims and is located in Grand County, 15 km west of the city of Moab. Lithium and other minerals occur at the project in an over-saturated brine (40% minerals, 60% water) discovered during oil exploration when drill wells intercepted Clastic Bed #14 of the Paradox formation.
October 31, 2016 – Voltaic Minerals Corp. has signed an MOU with Enertrex Corporation to begin process development and optimization for the expected Lithium brine solution extracted from the Green Energy Project using Enertrex's Selective Lithium Process. The purpose of the MOU is to determine whether the process can be used in a commercial operation and at competitive extraction cost.
Enertrex has developed a system that selectively extracts Lithium from Lithium bearing solutions. The system utilizes a reaction/transport mechanism to selectively extract Lithium in a cost effective process with modified commercial units. With over 100 combined years of technical and project management experience, Enertrex has the team in place to design, construct and optimize laboratory units, pilot plant demonstrate the system and commercialize the complete process.
The Green Energy Project is a prime candidate to fill the world's emerging need for Lithium.
The Green Energy Project is located in Grand County, Utah covering a total of 4,160 acres in the Paradox Basin with close proximity to rail head, power and paved roads as well as 5 existing production wells with proven historic brine flow from multiple horizons
Centrally located within 600 miles of Tesla Motors Gigafactory and 230 miles South of Salt Lake City, Utah
Historic drilling in the 1960's encountered super-saturated brines with 40% dissolved solids
Historic Lithium concentrations in brines ranged from 81 to 1700 mg/L
The Green Energy Property covers 48 square miles and is estimated to contain 27 billion cubic feet of Clastic Salt mineral layer based on the drill logs
Oil and gas exploration encountered blow outs caused by intersecting pressurized brines (~4,500 PSI) within the Paradox Formation
Clastic Unit #14 is the horizon of interest. Additionally, Clastic Units #9, #10, and #15 were identified to have historic brine flow
Oil and gas wells in the area have shown that they could flow in excess of 50,000 barrels of brine per day with potential temp of 145 degrees Fahrenheit
In the general 50 square mile area approximately 55 oil and gas wells have been drilled
Voltaic Minerals has confirmed historic brine flow from 5 oil & gas production wells on the Green Energy Lithium Project. The Company will continue working with its oil & gas consultants to obtain access to the existing well head structures on the Project and enter the intricate system of brines.
Utilizing the 3D model and the recent data, the Company intends to perform a bulk sampling work program to confirm the presence of the lithium bearing zone and associated brine data including but not limited to flow rates, temperature, and metallurgy. In addition, the Company intends to execute on its milestones of processing of the Green Energy Lithium Project brines using its Selective Lithium process with Enertrex Corp.
The goal for Voltaic Minerals is to advance the Green Energy Project and Selective Lithium process to produce a 100 kg customer qualification sample and have a revolutionary Lithium processing technique which is commercially viable for impurity rich Lithium brines.
Management and Directors
Darryl Jones, President & Chief Executive Officer
Mr. Jones has more than 15 years of capital market experience and an established financial network. Mr. Jones was an Investment advisor with PI Financial Corp. Canada and Raymond James Ltd. Canada. He was responsible for raising significant risk capital for growth companies in all sectors, with a particular focus on natural resources.
Tom Currin, Director & Project Manager
Mr. Currin is a Chemical Engineer with over 35 years' experience in the Lithium and specialty Chemicals Industry. He has an extensive background in lithium extraction and project management implementation having been involved in projects in Chile, Peru, Mexico, Canada and the United States. Prior to starting his own firm, Mr. Currin spent 15 years with FMC Lithium Division where his last position was Division Production Coordinator.
Sean Charland, Corporate Secretary and Director
Mr. Charland is a seasoned communications professional with experience in raising capital and marketing resource exploration companies. Mr. Charland also serves as a Director of several public companies including Zimtu Capital Corp. and Aurvista Gold Corp.
Dušan Berka, P.Eng., Director
Mr. Berka has over 40 years international experience in engineering, marketing & sales and business administration.
Foster Wilson, Director
Mr. Wilson has over 30 years of experience in exploration and development.
Please refer to Voltaic's website www.voltaicminerals.com for complete biographies.
See link below for an Investment Overview article by Proactive Investors: http://www.proactiveinvestors.com/companies/news/180480/voltaic-minerals-gearing-up-for-low-cost-lithium-exploration-in-utahs-paradox-basin-180480.html
On July 11, 2017, Voltaic Minerals Corp. announced that Macarthur Minerals Ltd. has issued one million shares at seven cents per share to Voltaic Minerals Corp., being the final payment for the acquisition of the Company's Stonewall lithium brine project, located in Lida Valley, Nevada.
On June 15, 2017, Voltaic Minerals Corp. announced that Lithium Selective Technologies Inc. (LiST) has completed preliminary testing using its hybrid technology for the recovery of lithium from natural brines. LiST confirmed that it has produced solutions with significant enhancement of lithium concentration and lithium/calcium ratios in its initial screening tests.
On April 11, 2017, Voltaic Minerals Corp. announced that Lithium Selective Technologies Inc. (LiST) has begun testing brine solutions at its facility in northern California. The Company has engaged LiST on an interim basis in order to obtain sufficient technical data to be able to negotiate a definitive production and use agreement.
On March 27, 2017, Voltaic Minerals Corp. announced that it has formally engaged Stormcrow Capital Ltd. to provide strategic, technical and business support services to the Company.
On March 15, 2017, Voltaic Minerals Corp. announced that it has signed a 90-day exclusive extension agreement with Lithium Selective Technologies Inc. During the 90-day extension period, Lithium Selective Technologies will independently begin process work directly related to phase 1 as outlined in the draft definitive agreement.
The Company also announced that, further to its news release of Jan. 27, 2017, it has completed its non-brokered private placement financing pursuant to which it sold an aggregate of 15,150,666 units, at a price of six cents per unit, for gross proceeds of $909,039.96.
On January 27, 2017, Voltaic Minerals Corp. announced that it has entered into a 50/50 joint venture agreement with Equitorial Exploration Corp. for the Green Energy lithium project in Utah, United States. The agreement is subject to the approval of the TSX Venture Exchange.
The Company also announced that it has proposed a non-brokered private placement of up to 15 million units at a price of six cents per unit for total aggregate proceeds of up to $900,000.
On December 12, 2016, Voltaic Minerals Corp. announced that it has confirmed historic brine flow from 5 oil & gas production wells on its 100% owned Green Energy Lithium Project in Utah, USA. The recent data supports the Company's 3D model Phase 1 Work Program in confirming the historic presence of brine from Clastic Unit #14 along with several other potential zones spanning the Project acreage.